Proof: Printmaking in Eastern North Carolina
Cape Fear Community College's Wilma W. Daniels Gallery is excited to announce the opening of Proof: Printmaking in Eastern North Carolina. The exhibit is free and open to the public and will run from Tuesday, September 12, 2023, to Friday, October 27, 2023.
Proof: Printmaking in Eastern North Carolina is an exhibition that explores the materials, techniques, and approaches unique to printmaking by a diverse group of artists who call Eastern North Carolina home.
The exhibit will feature the works of Topher Alexander, Ben Billingsley, Shannon Bourne, Madison Creech, Matt Egan, Michael Ehlbeck, Donald Furst, Heather Muise and Jennifer Page.
The opening reception is this Friday, September 22nd, from 6:00 p.m. – 9:00 p.m. at the Wilma W. Daniels Gallery and is free and open to the public.
The Wilma W. Daniels Gallery is located at 200 Hanover Street on Cape Fear Community College's beautiful downtown Wilmington campus and is open 12:00 p.m. to 5:00 p.m., Monday through Friday. To see the full calendar of upcoming exhibitions and events visit WilmaDanielsGallery.com/calendar.
Two Artist Talks are scheduled to open and close the exhibit. At each, the featured artists will discuss their art and areas of expertise:
Artist Talk in the Gallery with Topher Alexander, Matt Egan, Micheal Ehlbeck, and Heather Muise (Sept 22, 2023 – 12:00 PM – 1:30 PM)
Artist Talk in the Gallery with Ben Billingsley, Shannon Bourne, Madison Creech, and Donald Furst (Oct 27, 2023 – 12:00 PM – 1:30 PM)
Read the descriptions below to learn more about the artists featured in the exhibit:
Topher Alexander
Topher Alexander has always been fascinated by the ways our increasingly technological world works to maintain its analog past, and he strives to bring that counterbalance to the forefront of his artwork. The resourceful nature of printmaking has made it the perfect medium to accompany Alexander during both his years of world travel and his reflexive periods in the studio.
Ben Billingsley
Ben Billingsley is a painter and printmaker living in Wilmington, NC. Billingsley has exhibited work in the Southeastern United States as well as in Latvia, Estonia, Russia, and Japan. He has taught studio art and art history at CFCC full-time since 2001, and is a frequent speaker at the Cameron Art Museum. Billingsley's September 2023 lecture at The Cam was "Untitled," an exploration of artist Felix Gonzālez and the intersectionalities of love, art, and LGBTQ+ experiences.
Shannon Bourne
Artist and educator Shannon Bourne creates and experiments within the mediums of printmaking and ceramics, while working as a graphic designer and art director for the television and film industry. Bourne has participated in several group shows and solo exhibitions on local, national, and international levels. Most recently, her graphic design work can be seen on the television shows "The Summer I Turned Pretty," "Zooey 102," and all four seasons of "OBX."
Madison Creech
Madison Creech was the 2018-19 Fountainhead Fellow in the Department of Craft and Material Studies at Virginia Commonwealth University. Creech's work has been widely exhibited across the country, and she has been the recipient of several distinguished awards, including the Juror's Award from the ARC Gallery's Frayed exhibition in Chicago, IL. She currently co-runs the Fried Fruit Art Gallery in the Cargo District in Wilmington, NC.
Matt Egan
Matt Egan's current studio work attempts to challenge the literal with a suggestion of the absurd by means of connecting unrelated things. Egan's prints, drawings, and high-relief handmade paper casts have been exhibited in more than 200 regional, national, and international juried and invitational exhibitions in North America, Asia, and Europe.
Michael Ehlbeck
Michael Ehlbeck works primarily in intaglio and relief processes. Ehlbeck's large-scale etchings were commissioned by The Atlanta International Airport, where they are on display. During his career Ehlbeck has participated in more than 250 regional, national, and international exhibitions.
Donald Furst
Self-described "printnivore" Donald Furst thrives on an artistic diet consisting of a wide variety of printmaking methods. In addition to his favorite process of copperplate mezzotint, Furst is also fond of stone lithography, woodcut, linocut, and Solarplate intaglio.
Heather Muise
Heather Muise is currently working on a series of prints using etching and aquatint techniques that explore imagery from the environment, dreams, and natural disasters. With the desire to make suggestions to the viewer, rather than to provide a narrative, Muise's work often uses esoteric or codified imagery that conjures up ideas of magic, divination, and possibilities that may or may not exist in our world.
Jennifer Page
Jennifer Page's main printmaking specialties are photo intaglio etching and traditionally etched processes on copper. Page finds the scientific and alchemical aspects of these processes just as challenging and compelling as the creative side of the work. Page is the owner of Cape Fear Press. Established in 2001, Cape Fear Press launched the first steamroller printmaking event in the Southeast, a tradition now kept alive by UNCW faculty.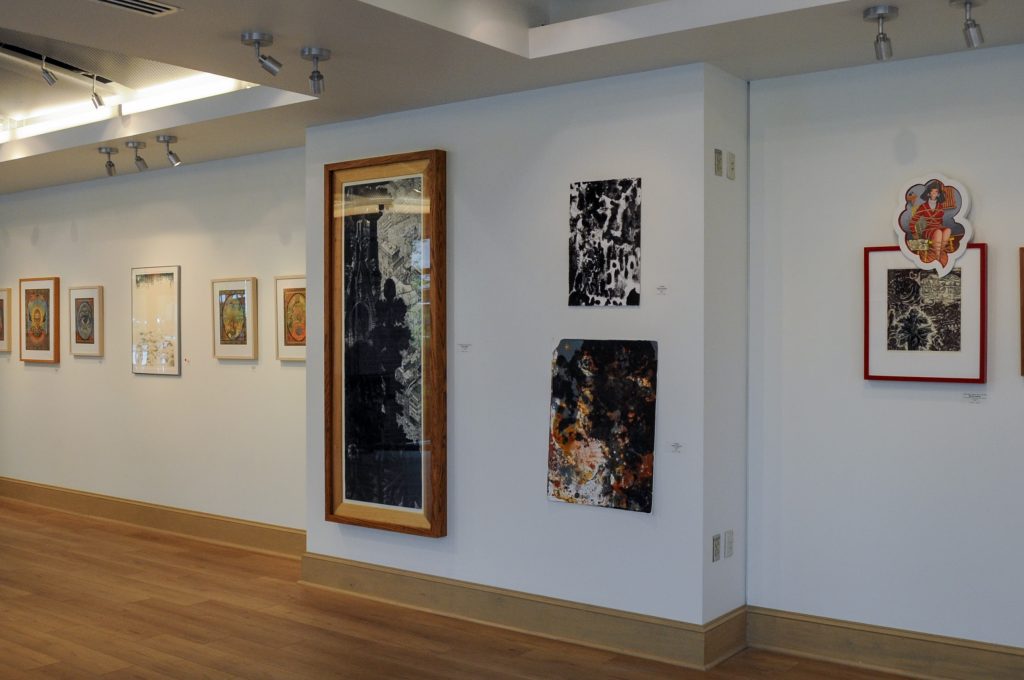 ---