Points in Common
December 3, 2021 to January 28, 2022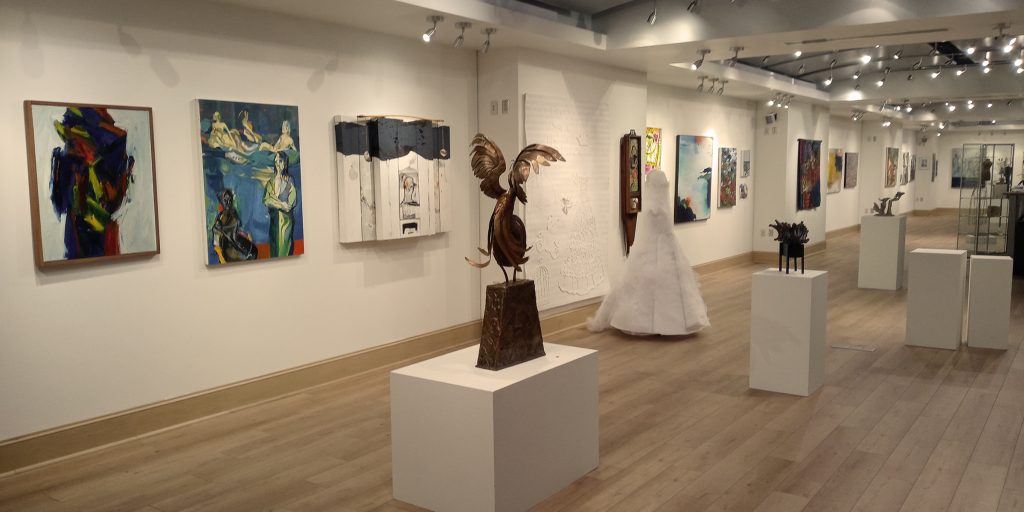 No Boundaries International Art Colony & Acme Art Studios Present Collaborative Exhibition
The Wilma W. Daniels Gallery is thrilled to announce a unique collaborative exhibition, Points In Common; No Boundaries Art Colony and Acme Art Studio, which draws on the work of 34 American artists who attended No Boundaries International Art Colony and worked at or collaborated with Acme Art Studios. The exhibition will open on Friday, December 3, 2021, with an opening reception from 6 p.m. to 9 p.m., and run through January 28, 2022. The exhibition will also be part of Fourth Friday Gallery Nights, and will host receptions on both December 17th and January 28th, from 6 p.m. to 9 p.m. each evening.
About Points In Common
Friendship between Gayle Tustin, Dick Roberts, Marshall Milton, Carol Collier and Pam Toll began in the early 1990's when a group of artists found each other at Rick Mobb's Studio. Dick, Marshall, Pam, Carol and three other artists founded Acme Art Studios in 1991. Four Full Moon shows later, Pam, Gayle and Dick experienced living and working with international artists at St. Joakim Osogovski Monastery in Kriva Palanka, Macedonia. It was from the generosity of this experience that No Boundaries International Art Colony was born. Kent Mitchell, Bald Head Island and the community helped make a dream a reality. Twenty- three years later it's hard to separate all the threads…
This exciting exhibition features the work of 70 artists, from 22 countries around the world – representing every continent except Antarctica — nearly three dozen of whom are American artists involved with both No Boundaries and Acme Art Studios. Their work, for the most part, was created this year especially for this exhibition. The work of the international artists is drawn from the No Boundaries and Bald Head Island Collections.
---