2021 CFCC Student Art Exhibition
April 5 to 30, 2021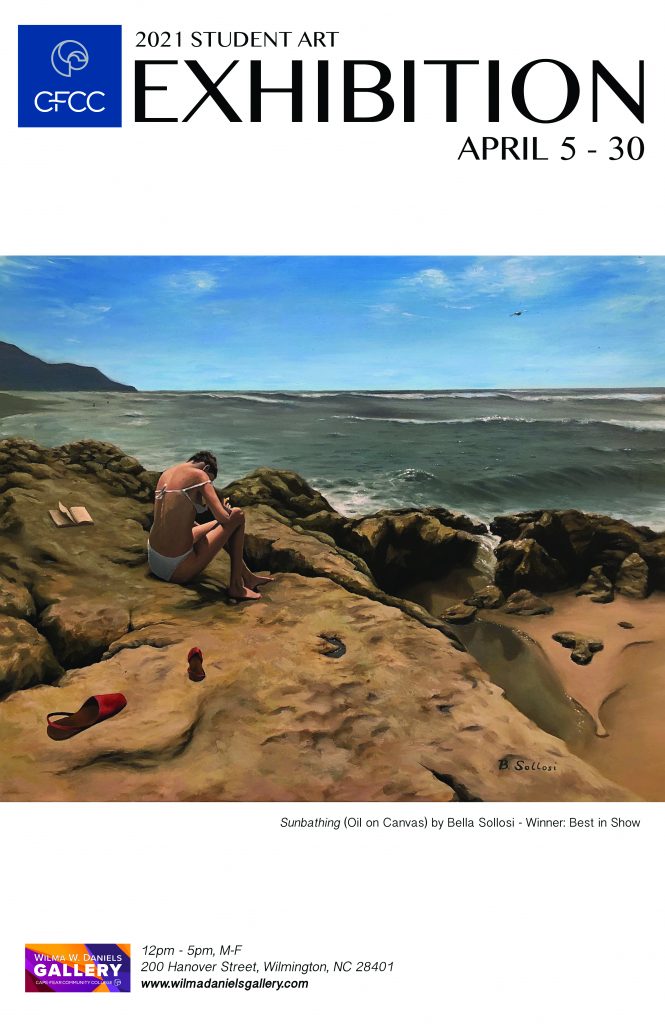 The Wilma W. Daniels Gallery and the Cape Fear Community College Fine Arts Department are thrilled to announce the opening of the 2021 Student Art Exhibition. This annual juried show features the works of CFCC student, with winners selected across numerous categories, as well as a Best in Show winner. The exhibition opens on Monday, April 5, 2021, and will run through Friday, April 30, 2021.
This annual exhibition of student works is a juried show, and this year's juror was Amy Grant, owner of the Art in Bloom Art Gallery. According to Grant, student works were judged on the basis of composition, form, creativity, originality, technique, and presentation. Using those criteria as a framework, the following winners were selected:
Best In Show: Bella Sollosi, Sunbathing
Photography: Karen Moody, The Shack
Ceramics: Maggie Connelly, Bubble Pot
Painting: Amy Covington, Float
Drawing: Marvin Mejia, Pop Culture
Printmaking: Joseph Parks, Balance
Mixed Media: Sterling Powers, The Heir (triptych)
Sculpture: Sterling Powers, Let's Get Loud
Design: Polina Sladkova, Cycle of Life
Digital Media: Ray Starling, Gulls, Gulls, Gulls.
For those who wish to view the works on display, the Wilma W. Daniels Gallery will be open from noon to 5 p.m., Mondays through Fridays (to 7 p.m. on Thursdays), during the course of this exhibition. Visitors are welcome and will be asked to maintain physical distancing as required by local and state regulations. Masks are required for entry. The virtual exhibition will open o
---